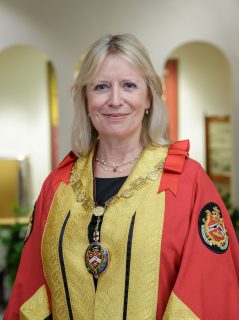 The Master Pattenmaker,
Sarah Leijten
 Sarah grew up in Africa – both East and West, attending primary schools overseas but spending her secondary school years in the UK. She attended St. Aidan's College at Durham university reading Economics, graduating in 1988.
After a brief spell as a trainee accountant following graduation, she then transferred into Human Resources. Working at Board and Executive level she has 25+ years of HR experience gained across a mix of blue-chip companies and SME's in sectors as diverse as oil and gas, industrials, manufacturing and health-care, traveling extensively as part of her roles.
Latterly she moved into Education as the Head of Careers for Bradfield College, a large independent boarding school. She has recently commenced a Sabbatical.
Married to Philip, who is Dutch, since 1994 and with one daughter Victoria, they live in West Berkshire along with their adored Springer and Breton spaniels.