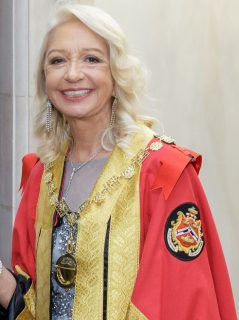 The Master Pattenmaker,
Jennifer Bryant-Pearson
 Jennifer began her career at Conservative Central Office and then set up JBP Associates Ltd in 1984, a Public Affairs and Communications consultancy with offices in Westminster, Bristol, Warwick and Manchester.
She is Facilitator to the All Party Parliamentary Corporate Governance Group and to the All Party Parliamentary Engineering Group in the Palace of Westminster, both of which she set up with parliamentarians and FTSE 100 companies.
Jennifer is a Non-Executive Director of Braintree Ltd, an artificial intelligence company utilising leading edge technology.
She is the Deputy Chair of St Paul's Chorister Trust, and a Trustee of the Trollope Society.
Her previous roles have included being a Non-Executive Director of Swallowfield plc. She has lived and worked overseas and was based in Los Angeles when she held the position of Vice President, Global Corporate Communications of a US listed company, Herbalife International, where she was responsible for activities in 59 countries.
Jennifer is married to Leslie Perrin, Chairman of Calunius Capital LLP, an international litigation fund, and has four adult stepchildren.
She is passionate about the arts and particularly loves opera and theatre. She and Leslie are actively involved in a number of theatre and opera companies in London and the Cotswolds.
They enjoy riding their horses at the weekends and have two cats who travel regularly between Gloucestershire and London.