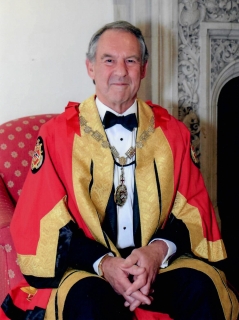 The Master Pattenmaker, Mr Richard Kottler
Richard was born in Chester and has lived in Ealing since 1987. He is married to Sonja, a management and communications consultant and Trustee of Sir John Soane's Pitzhanger Manor. He has two sons, James and William and five grandchildren.
He attended Northampton Grammar School and read Law at Queens' College Cambridge.
Richard has had a varied career, starting with Personnel/HR roles with ICI, Ford and Carrington Viyella before moving into sales and general management positions in the clothing industry with companies such as Aquascutum.
His 25 years involvement in the footwear industry commenced with a management buy-in of H & M Rayne, double Royal Warrant Holder for shoes and handbags. His footwear career continued when he established an executive recruitment company specialising in this sector. Richard sold the company in 2008 and joined the British Footwear Association (BFA) as Chief Executive.
After seven years re-establishing the BFA Richard retired in 2014. Since then he has continued his involvement with the industry as a consultant and mentor to Boards and individuals with his new company – Tailwind.
Additionally Richard has been a committee member of Footwear Friends, the industry charity, for over 19 years and was President between 2009 and 2013.
His position in the industry involved him in a number of committees within the footwear industry including the major UK design colleges, Skillset and the CEC (the European Footwear Trade Association).
Richard was admitted to the Worshipful Company of Pattenmakers in 1994 and served on the Court for 12 years including a two-year period as Warden to the Trade and 12 years as Administrator of the Young Managers Award Scheme.
Sonja and Richard, in addition to enjoying their grandchildren, travel a great deal – including to several Rugby World Cups – and Richard is a keen cyclist and walker.